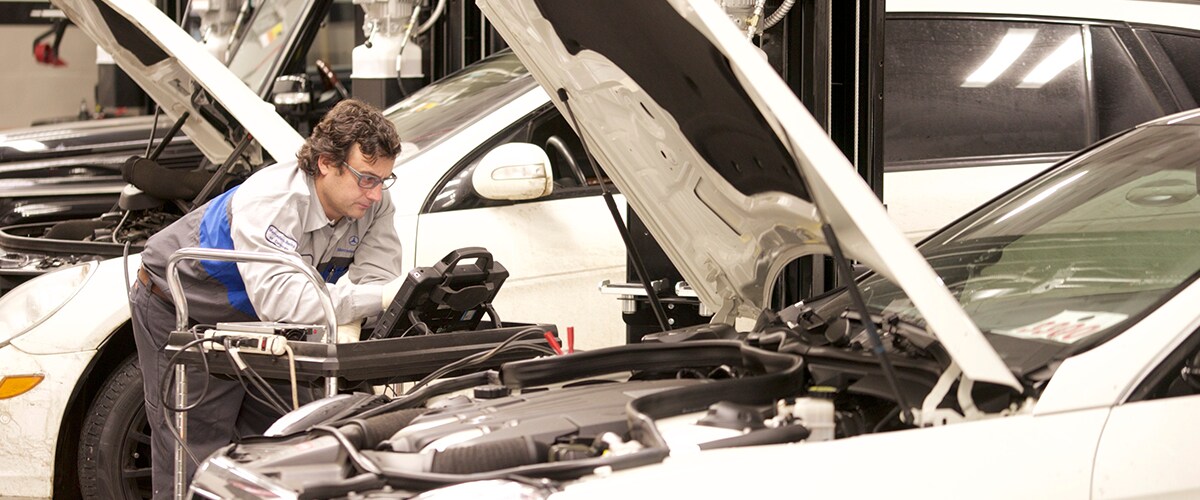 Battery Service
at Mercedes-Benz of Denver
Knowing When Your Battery Needs Replacement
You will need your battery to work the way that it needs to so that you will be able to get the performance that you need whenever you get behind the wheel. The battery starts your car and the electronics inside, which means when you want to drive your Mercedes-Benz, you will need the battery to work how it is supposed to. Our team wants to give you a few tips to see when you should care for your battery.
When to Tell When Your Battery Needs Servicing
A dying battery has many clear symptoms for you to look out for. If your Mercedes takes longer to turn on, you need to try multiple times for it to turn on, or if the lights are dimmer than usual, then your battery will need to be replaced soon. The harsh weather that we can see in Denver, CO is known to drain batteries, but a new battery that is in good condition is sure to continue performing its best.
There are also physical signs on your battery that show it will need replacing. Cracks, welts, or leaking from the casing are all signs that your battery is having issues, meaning you should visit our service center soon to get a replacement. Batteries don't last forever, becoming unreliable after four or five years, but our team will always be able to get you a replacement so that you can trust your Mercedes-Benz car or SUV.
Visit Our Dealership Whenever You Have Any Questions
Our experts will be able to get you into a vehicle that meets all the needs of your life, keeping every essential component performing how they should. There is no problem too big or too small for our team to care for, which is why we encourage you to visit whenever you notice a problem with your vehicle.
Hours
Monday

7:00 AM to 6:00 PM

Tuesday

7:00 AM to 6:00 PM

Wednesday

7:00 AM to 6:00 PM

Thursday

7:00 AM to 6:00 PM

Friday

7:00 AM to 6:00 PM

Saturday

8:00 AM to 5:00 PM

Sunday

Closed by State Law