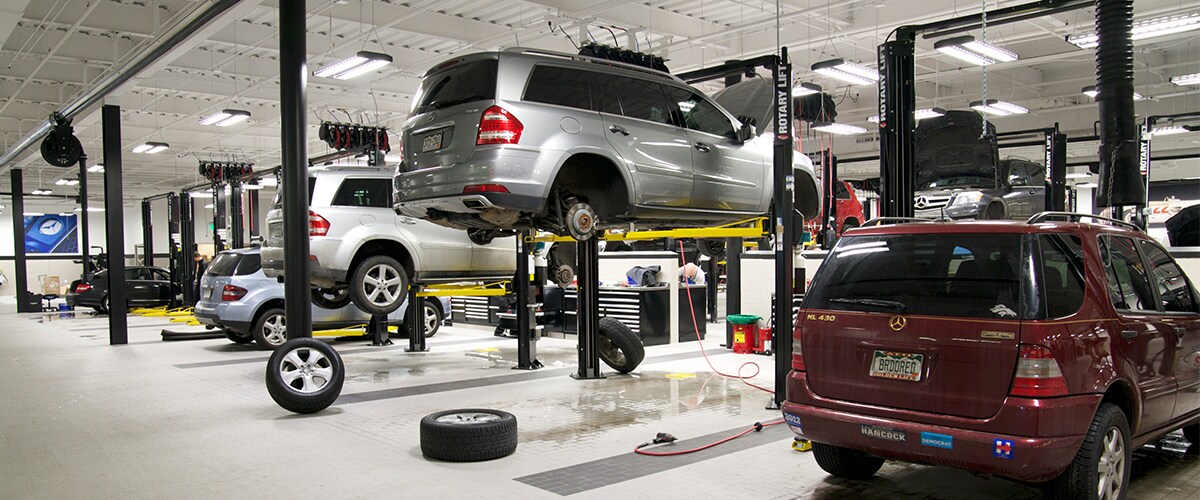 Brake Service
at Mercedes-Benz of Denver
A Dealership You Can Trust to Service Your Brakes
Your brakes will need routine maintenance and care to continue to perform their best, which is exactly what you will find when you visit Mercedes-Benz of Denver. You deserve to have a vehicle that will perform how you want it to whenever you are driving, that's why you chose Mercedes-Benz in the first place, and getting your car or SUV serviced here will offer just that. We want to help you see when you should be coming for a brake service and what you should be looking for to get an idea of the condition of your brakes.
How to Tell When You Need Brakes Serviced>
There are some very clear signs of when you should bring your Mercedes-Benz to have its brakes serviced. If you press down on the pedal and feel vibrations, hear a strange noise, or start pulling to one side, you should have your vehicle brought to us. We will inspect your brakes to tell which parts need replacing, doing all the necessary work to help you enjoy your drive.
The signs above aren't the only ways that we would know to work on your brakes. Our team will inspect each of your brakes when you bring your vehicle in for its routine checkup, giving you the best performance for your time behind the wheel. Our Mercedes-Benz service center will provide you with everything that you could need to keep it in its best condition.
Why to Choose Our Denver, CO Mercedes-Benz Dealership for Your Auto Service
Our team of trained technicians will keep you feeling confident in every aspect of your car or SUV. We will take the time to answer any questions and will make sure to do all the work that you will need. We encourage you to visit our dealership if you notice anything strange with your vehicle, we will be happy to do any inspections that you could need.
Hours
Monday

7:00 AM to 6:00 PM

Tuesday

7:00 AM to 6:00 PM

Wednesday

7:00 AM to 6:00 PM

Thursday

7:00 AM to 6:00 PM

Friday

7:00 AM to 6:00 PM

Saturday

8:00 AM to 5:00 PM

Sunday

Closed by State Law