>  

Air Conditioning Repair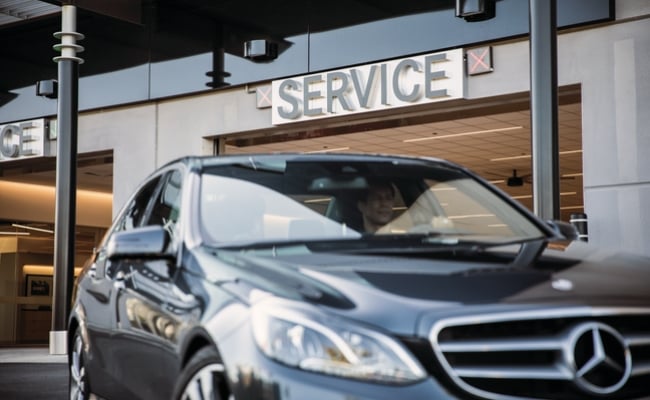 Chill Out with Automotive Air Conditioning Services in Denver
Hours
Monday

8:00 AM to 5:30 PM

Tuesday

8:00 AM to 5:30 PM

Wednesday

8:00 AM to 5:30 PM

Thursday

8:00 AM to 5:30 PM

Friday

8:00 AM to 5:30 PM

Saturday

9:00 AM to 1:00 PM

Sunday

Closed by State Law
Everyone wants to be comfortable, including during summertime in Denver. Luckily for our Colorado Boulevard drivers, the Service Center at Mercedes-Benz of Denver performs top-notch air conditioning services, all so you can get back to cruising comfortably from Cherry Creek Mall to City Park and beyond.
How Do I Know I Need My A/C Serviced?
There are a few ways to tell if you require air conditioning service, and all of them are pretty apparent-especially in the dog days here in Denver. Is your A/C system blowing out hot air? Is there a lack of pressure when the air blows out? Is the A/C system failing to blow out any air at all? If you're experiencing any of these symptoms, the time has come for you to get your A/C system serviced.
What Types of Air Conditioning Services Are There?
Getting your A/C serviced can express itself in a multitude of ways, depending on what your particular vehicle requires. Our trained technicians can repair or replace any of the individual components of your system, including:
Switches, controls and modules
Evaporators and condensers
Driers, receivers and accumulators
Compressors and compressor clutches
O rings, seals and hoses
What Makes Us Suited to Service You?
The Service Center at Mercedes-Benz of Denver is staffed with technicians who harbor expertise in every realm of the Mercedes-Benz line; in fact, they're specifically trained and certified to take care of Mercedes-Benz cars and SUVs. We solely utilize genuine OEM parts and accessories to ensure your car is fitted as it was meant to. Additionally, being just minutes from the Denver Country Club, we're a convenient stop during your busy life, and we'll make every effort to fit into your schedule so you don't have to halt your days more than necessary.
If it's time to get your A/C system serviced, Mercedes-Benz of Denver is just a call away.