>  

Engine Light Diagnosis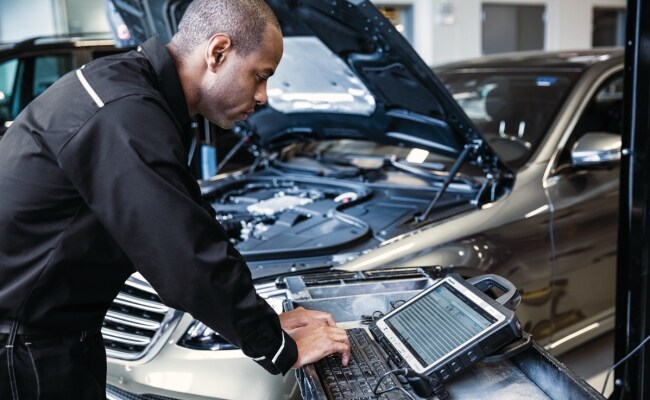 Illuminate Your Denver Commutes with an Engine Light Diagnosis for Your Mercedes-Benz
Hours
Monday

8:00 AM to 5:30 PM

Tuesday

8:00 AM to 5:30 PM

Wednesday

8:00 AM to 5:30 PM

Thursday

8:00 AM to 5:30 PM

Friday

8:00 AM to 5:30 PM

Saturday

9:00 AM to 1:00 PM

Sunday

Closed by State Law
Don't live in the dark about your engine light being on. With the help of the Service Center at Mercedes-Benz of Denver, you can get your beloved Mercedes-Benz car or SUV diagnosed quickly and accurately, allowing you to jet back toward Denver Country Club or City Park in a luxury ride that's safe, sound and ready for the road ahead. 
Why is My Check Engine Light On?
The Check Engine light, also known as the Malfunction Indicator Lamp (MIL), is a way for your vehicle to express that something is wrong. It may be a minor issue, such as a loose gas cap, but it could be deeper than that. Some more intricate reasons for Check Engine light illumination include the need to replace your Oxygen Sensor, Catalytic Convertor, Spark Plugs or Mass Airflow Sensor. Your Mercedes-Benz technician can help you deduce just what it is that's ticking your Check Engine light.
Should I Bring My Mercedes-Benz in for a Diagnosis?
Until you bring your Mercedes-Benz car or SUV in for an engine light diagnosis, there's no way to know for sure just what's causing the issue. It could be a minor issue that your technician can quickly resolve before resetting your light, or it may be a more in-depth issue that our trained professionals are capable of helping with. Either way, when it comes to your engine, you don't want to mess around.
Why Should I Come to Mercedes-Benz of Denver?
The Service Center at Mercedes-Benz of Denver staffs Mercedes-Benz Certified Technicians who are trained to know just how to take care of your valued vehicle. Moreover, we use the latest technology and equipment, and we make every effort to fit into your hectic schedule. Take the time to head from your Lakewood home and stop by for a quick and effective engine light diagnosis; we promise it'll be worthwhile.